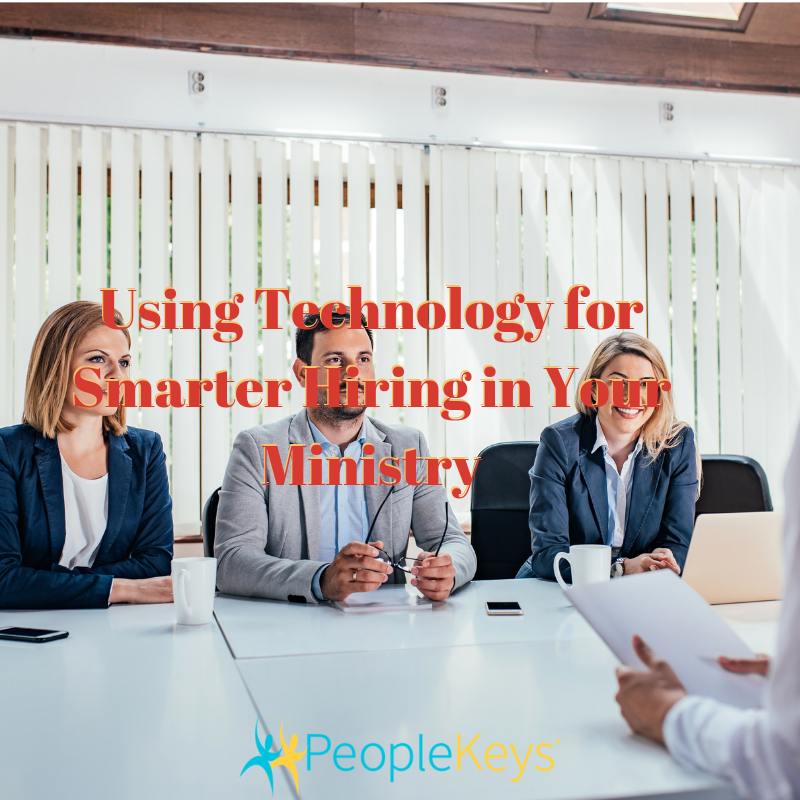 Using Technology for Smarter Hiring in Your Ministry
Recruiting and hiring in the corporate world is challenging enough, but hiring for ministry can be a formidable task with stakes increasing in senior pastoral positions. For those of you who've hired in both worlds, you know that church staffing is unlike any staffing out there. It comes with a unique set of dynamics; it needs a unique and "smart" approach to ensure retention and success.
The Church-Staffing Challenge
In the corporate world, there are key factors driving hiring decisions and determining the best fit among a candidate pool. This is the responsibility of the HR department and hiring team. In ministry, you have the same factors as in businesses (i.e. salary, job, and skills fit, etc.) but with the addition of family, staff, community, and calling fit. There are more critical criteria to match and ensure agreement, therefore it's important to approach your church staffing using relative tools and technology available today. To complicate matters, some churches are too small to have an HR department, hire an executive search firm, or sink money into recruiting. Oftentimes, church staff are already overloaded so filling church positions can become an area of increased stress.
Smarter Ministerial Hiring
PeopleKeys has been passionate about implementing best hiring practices in ministries and churches for over 35 years. Our consulting team has been called upon to hand-select church staff, and we've created online tools enabling others to find the best church fit. Ministries that have used PeopleKeys hiring tools, over time, have made the PeopleKeys hiring platform "smarter" by creating benchmarks for specific church positions. This is important so that similar churches, too, can find top-performer qualities in candidates. PeopleKeys hiring tools and performance benchmarks have worked for thousands of successful church, ministry, and non-profit placements. Below are tips that have helped PeopleKeys clients effectively recruit and hire for their ministries.
Tips for Church Staff Placements
There are tools beyond the resume, references, and gut feelings that help you better predict the success of your candidates. The extra steps you take before your candidate search will ensure the best match.
1. Know Your Church
Forming a candidate search group will help prepare for realistic decisions.
Identify your church mission and vision – Even before your staff search begins, senior church members should sit down and make sure everyone is on board with the church mission and vision for the future. Forming a search committee with all members in agreement is the ideal way to begin your search.
Identify your church culture – Before your search begins, recognize your current, unique church culture and the culture you would like to create.
Identify the job requirements – Exactly what does the job entail? Some pastors are on-call 24/7. Some pastors are required to fix broken pews, while others have more duties in community relations. Know the specific tasks and relational aspects of the role.
2. Know Your Candidates
Using short surveys will give you a behavioral snapshot of your candidate.
Identify the behavioral attributes of your candidates – Revealing the personality and behavioral qualities of your candidates will provide a quick snapshot of their behavioral dimensions. Using tools, such as the PeopleKeys Biblical DISC profile, will inform your team of how candidates may handle stress, make decisions, and to what degree they enjoy task and relational activities.
Identify the calling of your candidates – As a pre-filter technique, inventories such as the Spiritual Gifts Inventory (SGI) will help you know your candidate beyond the resume and interview. Answers to the SGI will reveal or confirm areas of Spiritual gifting and passions.
Identify the leadership qualities in your candidates – Not everyone who's an inspirational gospel speaker has the desire to manage or lead. Though leadership is a learned skill, the PowerDISC tool in the Leadership Report will help you discover areas where your candidates may need augmentation or support, and who is ready and willing to lead.
3. Create Your Best Match
Benchmarking ideal behavioral attributes for the position can forecast success.
Identify top-performer benchmarking for ideal fit – Once you've identified your mission, culture, job requirements, and your candidates have taken a soft-skills assessment, then have a performance benchmark added to your PeopleKeys account so you can evaluate the personality, behaviors, and passions necessary for one to be successful in the job role to those of your candidates.
Beyond these tips is, of course, prayer. The peace your search team receives from effective prayer will be the greatest factor in hiring decisions. PeopleKeys can help supplement the discernment of prayer with time-tested behavioral analytics and hiring tools designed to make your work smarter, not harder when staffing your church. Contact us today to learn more about implementing a more successful and smarter hiring system into your ministry.
Interested in learning more about performance benchmarks for hiring? Watch this short video.