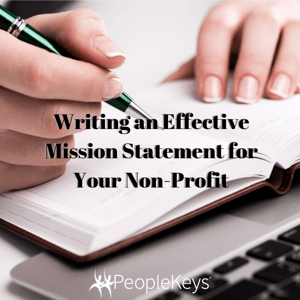 Your mission statement is one of the most powerful tools of your organization. Yet, ironically, many don't take the time to create an effective mission statement. A Harvard Business Review article reit-erates that this important task is often overlooked, thrown together or ineffective. With such funda-mental importance, the mission statement should be given priority in its crafting or should be revised if it is no longer effective.
If your non-profit is comprised of Millenials, that's great because millennials are a generation inspired and energized by a mission. One of the defining aspects of the millennial generation is that they have a true interest in giving back, creating community, humanitarianism, and altruism.

At PeopleKeys, we are privileged to work with many big-hearted non-profits doing great work to raise awareness and money to further their causes. We often consult or partner with non-profits around behavioral analysis. PeopleKeys consultants are called upon to place volunteers and help create strong mission statements, which keep non-profits viable and successful so they can do good work. Because corporate and shareholder profit is a huge piece of for-profit companies, non-profits have an even greater obligation to create a mission statement as their goals go beyond profit-making to articu-late a true "mission" for their existence.

What is a mission statement? "A statement that provides purpose and focus."

A mission statement is the foundation or "purpose" of the activities of your charitable organization. It's like the "North Star" that guides the actions, direction, and functions of the organization. Because it's one statement, it can't be all-inclusive, therefore it also provides just the "main focus."

Below are tips from the PeopleKeys consulting files:

1. Assemble the group
Unless you have a one-person operation, you most likely have others involved in promoting the or-ganization's cause.
Gather the founders and visionaries.
Devote time to crafting the mission statement.
Use a whiteboard or space everyone can see for notes.

2. Use storytelling
This is a great way to begin an open discussion and to voice similarities or differences of purpose.
Discuss the problem each sees.
Discuss how each person sees the purpose of the organization by telling a story of help, change, service, or awareness for the organization's beneficiaries. What do you want to ac-complish ultimately? How did it solve the problem? Stories can be real or created as an exam-ple.
Write stories on the board.
Circle statements and impacts of the stories.
Don't discuss details, talk about ultimate outcomes of the activities. How did the activities bring change or better the situation?

3. Answer questions
Group discussions about the mission should include answering the following questions:
Why does your organization exist?
Why is your organization necessary?
What is unique about your organization from similar organizations?
Who benefits from your services and fundraising?
To what ends are you working?
What values sustain your efforts?

4. Reach consensus
This is where you whittle down the viewpoints into something you can all agree upon.
Read over the impact stories and circled statements, ideas, and outcomes.
Agree on specific words that you feel depict your ultimate goals.

5. Craft your final statement together
Keep these elements in mind when crafting your final version. Make sure it checks all the necessary boxes for an effective mission statement.
Keep your statement focused.
Keep the statement short and to the point.
Don't use jargon, just be real.
Does your statement inspire others to join or give?
Is your statement realistic?
Find other effective mission statements you like.
Use a professional writer if you need.
Once you have your mission statement in place, refer back to our blog post, 3 Elements in Developing a Successful Christian Outreach Program and start thinking about how to develope your missions team. Are you utilizing their individual personality and spiritual strengths to best help your organization and serve others?

If you use PeopleKeys products in your organization, we would love to hear your story about your work and your mission. Please write us in the comments section below to tell us more about your mission and who it benefits.