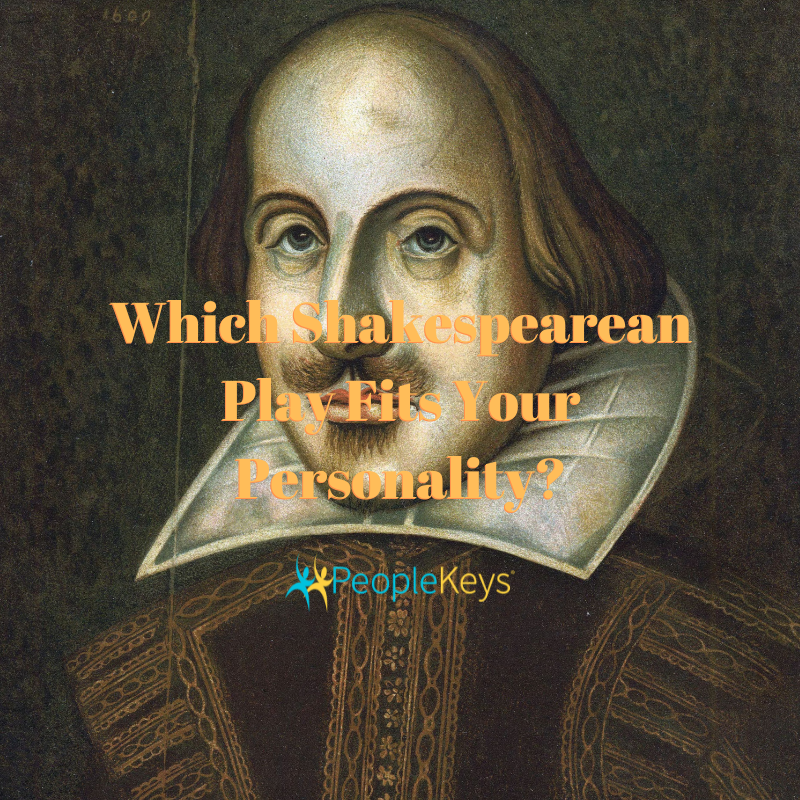 Which Shakespearean Play Fits Your Personality?
Saturday, April 23rd, 2016 marked the 400th anniversary of the death of William Shakespeare. Thought to have passed away on his 52nd birthday, the prolific and prodigious author of 38 plays and over 150 sonnets' influence remains as tangible as ever. Many of us have fond (or less than fond) memories of reading Shakespeare in High School. Whether we struggled with the Early Modern English or simply savored the love stories, Shakespeare assuredly made a mark on us.
But how long has it been since you've revisited the Bard of Stratford-upon-Avon? In commemoration of the passing of this magnanimous author, here is your DISC-based guide to which Shakespearean play fits your personality.
D- Macbeth
In the quote above, Lady Macbeth is expressing her concern that Macbeth will be too sensitive to do what needs to be done. This is a disconcerting thought. As a D, you appreciate a man who knows what he wants, and goes and gets it.
Sure, you don't approve of his methods, but you like that he didn't just sit around and wait for his fate to come to him. He made moves. Macbeth is far from your role model, but your competitive side really appreciates someone who wins. Macbeth is not a man who is easily defeated.
You also like that this is a play about gaining power that doesn't take the entire duration of the play for the protagonist to obtain it. Why would someone want to wait around for the characters to actually do something about their problems? You appreciate characters that are efficient risk-takers, and aren't above engaging in a little friendly (or in Macbeth's case, not so friendly) competition. Lady Macbeth, though cruel, is right about one thing. You, too, dislike people who lack ambition or spine.
Like Macbeth, you, too, fear being taken advantage of. So you tend to seek authority to ensure that you can control outcomes. You've got a pretty good idea about what needs to be done, so why would you wait around for someone else to do it? Luck favors the brave, and you are not afraid to go after what you want. With the encouragement of his high D wife, Macbeth isn't afraid to go after what he wants, either. You see that Macbeth's character is supremely flawed, but there's just something about the guy that you find fascinating.
I- Midsummer Night's Dream
Face it, I. You don't enjoy having to stay grounded in reality. People who reside exclusively in reality are too pessimistic and cynical. You have an active imagination and love the surreal and fantastic. That is why you enjoy Midsummer Night's Dream. You probably see a little bit of yourself in the mischievous Puck, or wish that you, too, could frolic with the Faerie Queen Titania. An I like you isn't interested in realistic tales of romance or conquest. You want to dream, to live larger than life, to dwell in possibilities.
When you see this play performed live, you adore all of the colorful costumes and the ethereal, otherworldly set dressings. You don't mind that Shakespeare requires you to constantly read in-between the lines, this is something that you do naturally.
The Bard's historical dramas involve too many details to maintain your interest. You don't really care if the War of the Roses was before or after 1455, or who each Duke is related to. Details like that are boring to you; you'd rather read a well-worded pun.
Like Puck in the quote about the girdle, you are prone to seeing the best possible outcome, and aren't above a little hyperbole. As a perpetual optimist, you love a happy ending. And this play delivers! It's a comedy by the strictest of definitions. Tragedy-someone dies; Comedy-someone gets hitched. And there is not just one wedding in this play, but several! Not to mention faeries, magic, trickery and more! Doesn't that just make your dreamer's heart sing? This play tickles your whimsical side, and you wholeheartedly approve.
S- Much Ado About Nothing or Romeo and Juliet
An S is very family oriented, so a play like Much Ado About Nothing, where everyone ends up with their true love and gets married, is very appealing. Like the I personality, the S appreciates a happy ending. This, unlike the I, is not due so much to an optimistic worldview, but rather a need for security. An S like you appreciates it when things work out for the best. It soothes one of your most fundamental fears- that security is illusory.
But on the other hand, Much Ado About Nothing kind of bothers you. There is so much infidelity implied in that play! You are a fiercely loyal and stability-oriented person. The majority of that play will make you pretty anxious. Can't they just settle down already? This is why Romeo and Juliet is also appealing to you.
Romeo and Juliet is a story of two young people who are so fiercely loyal to one another that they risk their own safety. They commit to marriage after knowing one another for an exceedingly brief period of time. As an S, the brevity of their courtship is a little concerning to you. You are not a risk-taker and would rather look before you leap, but you appreciate the lover's unwavering commitment. You also appreciate their people-oriented (albeit, idolatry-laden) ideology. You are not the type of person who needs crowds of people to pay attention to you. You care about everyone, but you don't need their attention all of the time. You prefer to focus on your family or group of close friends.
When it comes to relationships, you don't like the uncertainty involved in dating around. You would rather just have an intimate connection with one person, and have this be the focus of your world. Sort of like when Romeo says that Juliet is the sun. She's not like the sun, she IS the sun, and his world revolves around his relationship with her. Swoon.
Now if only something could be done about the ending. At least their untimely deaths ultimately united their feuding families, and S' can take comfort in that.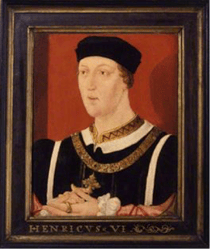 C- Henry VI Parts 1-3 (or really any of the historical dramas)
C's love details. You can really dive in and devour a play that incorporates a lot of them. Henry VI delivers on this. And a play that has several people by the name of Henry, William, Richard, or John, over forty characters, several Dukes, complicated royal bloodlines, and a long and circuitous plotline? Yes!
A true C isn't put off or confused by so many complications. You can remember who is related to whom even if you only received that information once. You'd rather hear about History than romance. Romance is all about people, and you are more task-oriented. You'd rather hear about what people did than who they loved. Because of this, you can appreciate how thorough The Bard was in his fictitious retellings of history.
Yes, you're bothered by all of the historical inaccuracies, but you enjoy the challenge of keeping the complicated plotline straight in your head. If you can get past the idea that these plays are not intended to be accurate re-tellings of the history of England and France, that is. You may, instead, look at the historical dramas as a self-contained and self-referential object, then you can really get into it.
Sure, Shakespeare isn't necessarily your cup of tea. C style personalities don't excel at reading between the lines and tend to believe that communication should be straightforward and honest. But the task of taking on the puzzling tetralogy of Henry VI (with Richard III included) may be exactly the type of challenge that piques your interest.
Cs enjoy being well informed, and having a thorough understanding of inaccessible canonical texts like Henry VI is the kind of expertise you might be able to sink your teeth into. (Maybe.)