Introducing: Joshua Levoff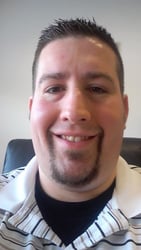 Personality at home: Definitely an "I" with a sprinkle of "S". With my 2 kiddos and wife!
Personality at work: At work I tend to drop a little "I" and add some "C"! Information is key to being able to do my job. I need to ask a lot of questions to get to the bottom of what our clients need!
Title: Business Development Behavioral Specialist
What do you do at PeopleKeys: My main job is to reach out to new businesses and organizations to help them with the use of our products. I also help those organizations to increase sales. I contact existing customers to advise them of our new products and services that we are launching. I am a friend to all of them!
What style to you admire most?: I think I admire the "DI" style most. I lack some of the "D" style so its hard for me to create the tasks and then push and get the tasks done! I plan on developing my "DC" side to become a more polished individual!