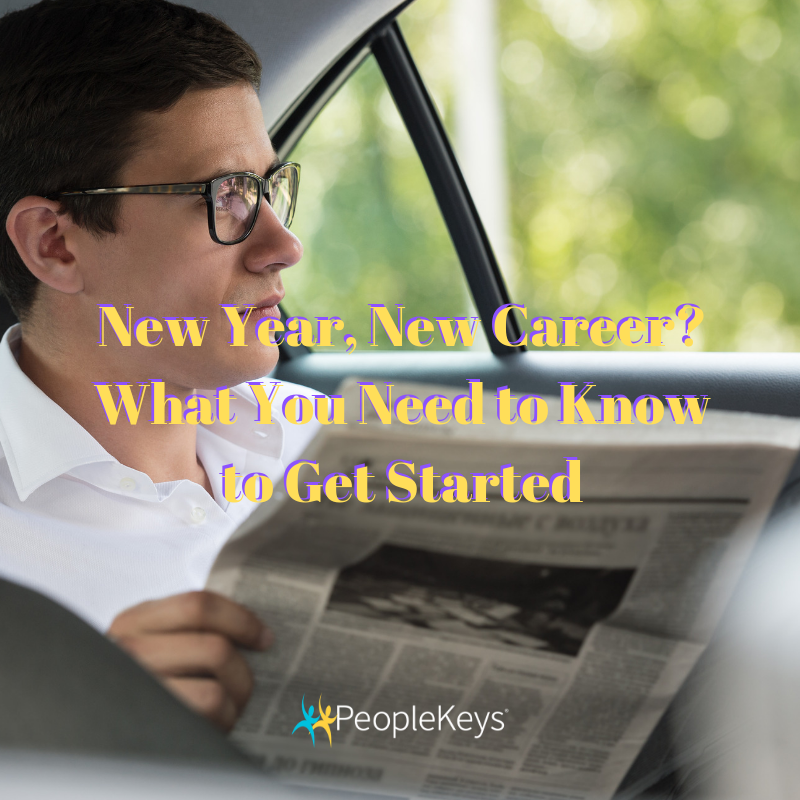 New Year, New Career? What You Need to Know to Get Started
The new year brings changes. It's a chance at a fresh start, a time to renew energies, make new plans, and create new resolutions. For some, it's the perfect time to act upon job or career angst. You may suffer from career burnout or may decide it's time to finally follow your passion, maybe you want to be your own boss, or simply need to improve your bottom line (between, switching jobs may be best way to get a raise). Whatever the reason, now's the time to scratch your itch.
Once you've made up your mind to make a career move, you must decide what you want to do to make that change. Without a plan, you could step from the frying pan into the fire.
Many of us go from high school or college straight to work without ever discovering what makes us tick. Maybe you never actually planned to be in the job you now hold and that's okay, "It's never too late to be what you might have been." This wisdom was given by Mary Ann Evans (pen name, George Eliot), considered to be one of the greatest writers of the Victorian Era.
The need for self-discovery: If you hired a career coach, the first thing they would work with you on is self-discovery.This includes using self-assessment tools to become more self-aware. Taking the time to do this step will not only help you make critical career decisions, but will help you to better navigate life.The process of looking inward to explore all of your personal attributes is key to looking outward at the job market and viable opportunities. Plus, when it comes to the interview, you will be a pro when asked to describe your strengths and what you bring to the table.
The Johari Window (aka Trust Model) is a great tool to visualize the four areas of human understanding and can help you recognize the areas with which you need to further explore.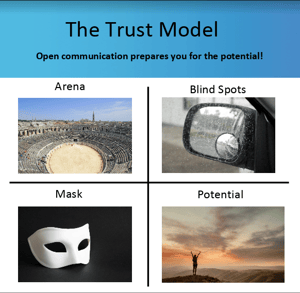 Arena – (I know, you know) this represents what you already know about yourself and the things that others know about you. This area is entirely known to you and others including your public behavior, education, skill sets, and accolades.
Blind Spots – (you know, I don't know) this represents areas known to others but not to you. These things are inherent in every personality style and without recognizing them, they can hold you back.
Mask – (I know, you don't know) this represents your facade and the parts about yourself (good or bad) that you hide from others.
Potential – (I don't know, you don't know) this represents the unknown self and it is this area that you can really find your potential. Once you reveal the other three areas, you can begin to see your true potential.
As a communication model, the Johari window helps individuals and teams improve understanding. It is also called the Trust Model because it helps build trust with others by disclosing information about yourself and getting useful feedback about yourself from them. Moreover, on a personal and professional level, improving your self-knowledge can improve relationships with others for better teamwork, emotional intelligence and self-awareness.
Areas and tools of self-discovery
With so many areas of the self to analyze, narrowing it down to only the most critical areas using validated tools is crucial. Like a good doctor who knows where to look and uses established diagnostic tools (like X-rays) before a plan of action, you too need to look in the right areas with the most effective tools.
Self-assessment should include the following four areas of self that are most fundamental and less-likely to change. In fact, these are the areas of ourselves that make us happy, content, and fulfilled. For example analyzing Life Passions are fundamental to motivations that underlie choices we make, personal interests, how we spend our leisure time, what we dream about, or what makes us smile. Work Values, also affect choices we make and how we react to work and corporate culture issues. Personality and Behavior, the observable personal dimensions, are fundamental to who we are, also less likely to change, but can change dramatically under stress and in various environments. The Team Role that we are naturally suited for, and naturally enjoy pursuing on a team is also very telling. All of these core elements help you to reveal the Arena, Blind Spots, Mask, and your future potential.
Life passions assessment: the important and compelling drivers, like achievement, status, social causes or autonomy. These areas shape attitudes and often reveal personal interests, how people spend their leisure time and the type of job or corporate culture a person can thrive within.
Work values assessment: the values you prioritize at work and how that affects the decisions you make, the work attitudes you may take, and the underlying motivational drivers for thinking and acting.
Personality style assessment: a person's communication and task preferences, strengths, behavioral needs, fears and weaknesses.
Team role assessment: the thinking style and role activities with which a person is most proficient.
Self-assessment can also include aptitude and skills which may be less fundamental to core happiness, yet still important. They may be important to natural ability, but that doesn't always translate to happiness. Aptitude and skills can always be increased with learning and training. For example, if you decide that pursuing a specific career makes you happy and fulfilled, plan to increase your aptitude or learn new skills to support your personal passion, value system or personality.
Aptitude assessment: this is the knowledge you've acquired through education or the natural talent you possess. These natural and acquired abilities and capacities can make it easier to pursue your passions.
Skills assessment: these are the activities with which you know, are proficient, or excel, such as writing, computer programming, or accounting. They may be natural skills or ones acquired through training, education and experience.
If career change is in your near future, a great way to begin the New Year is with self-discovery. To embark down the path, you'll need tools to identify your Passions, Values, and Personality etc. The 4D Report will identify all of these areas at once, in fact 1,440 unique behavioral dimensions. Hiring a professional career coach to pull it all together and translate your core attributes, preferences, and competencies into a fulfilling career will pay off.